DecoRug wants to celebrate the designer in you!
We are seeking DecoRug customers to be our great 'inspirers'.
So, if you've purchased a rug, flooring, carpet, shutters or blinds in the past 12 months, we'd love to hear from you.
Mitch & Mark



As ambassadors for DecoRug, we believe everyone has a designer within.
It just takes your inspiration, together with DecoRug, to make your home beautiful... and it's such fun.
That's why we love the DecoRug DesignerInMe Showcase. It's a chance to play and let your inner-interior designer free!
Add your pizzaz to your home's interior style by using the DecoRug products you've bought in the past 12 months, like Rugs, Flooring, Carpets, Shutters, Blinds and Veri Shades. Then, share a photo of your interior featuring your DecoRug products on your social media. See the conditions of entry below for a chance to win.
We will select a winner each month… because we know a thing or two about judging! It's a room reveal every month and we are so excited to see your inspiration, and share some of our own styling tips and trick along the way.
Plus, you could WIN great prizes!
How To Enter
1. Take a photo of your purchase at home.
2. Upload it to Facebook or instagram.
3. Use the hashtag #DesignerInMe and tag @decorugofficial
and add a few words about what inspired your design.
...you'll automatically be in the draw!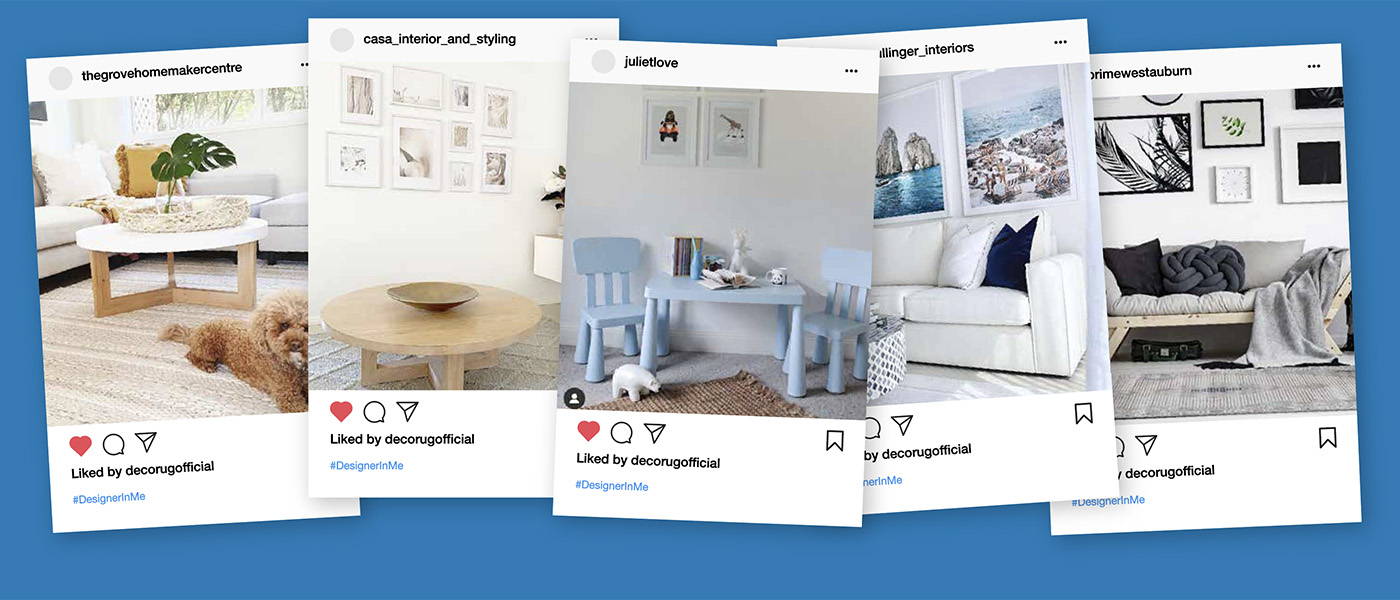 Each month we're offering great prizes for the most inspiring entry, such as iPads or up to $1,000 in value of your purchase price back.
DecoRug is flipping the whole influencer culture on its head.
And we've set out to find the best type of 'influencer' for our products - you!
In fact we're not looking to paid influencers to promote any of our products any further.
Is there a designer in you? We believe there is!
You don't need influencers telling you what to like - you know what you like!
To see the latest #DesignerInMe Showcase, follow us on Facebook or Instagram.
---
How to enter:
Follow us on Instagram and Facebook.

Subscribe to our newsletter (winners will be announced each month on socials/newsletter/website).

Upload your picture of how you styled your DecoRug product and write a small description of what inspired you for your design and tag #DesignerInMe and @decorugofficial.

Mitch and Mark, DecoRug's Brand Ambassadors will pick the most inspiring post each month to win an amazing prize.
T's and C's 
By tagging @decorugofficial the customer gives DecoRug Holdings Pty Ltd all rights to re-sharing, tagging and/or commercial use of the images shared by and tagged by the customer. The person's/pages tagging @decorugofficial may have their account shared on our social media pages, website, Facebook and Instagram.

DecoRug Holdings Pty Ltd has the right to cancel or postpone the #DesignerInMe competition at any time throughout the promotional period.

Customers will be notified via Direct Message from the @decorugofficial Instagram if they are a selected winner.

Only selected winners of the #DesignerInMe promotion will be contacted.